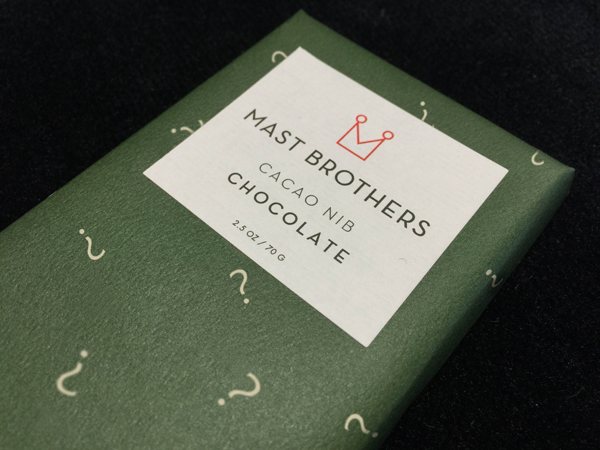 "Chocolate Experts Hate Mast Brothers." That stark headline from a Slate article last spring drew attention to a fact not widely known outside the fine chocolate world. Chocolate judges, authors, and specialty shop owners hold the Mast Brothers in low regard, Megan Giller reported, because the quality of their chocolate comes up short. While that is true, so far as it goes, it does not explain the particular disdain Mast Brothers receives. After all, some other bean-to-bar chocolate makers produce chocolate of equal or lower caliber. Looking beyond the quality issue, the Masts are not the only chocolate makers to wear beards, cloak themselves in hipster affectation, fixate on packaging, or garner press that's out of proportion with their merit. The real reason is something else entirely.
Let's turn the spotlight towards the elephant in the room. The fine chocolate community scorns the Mast Brothers because they are thought to have launched their business with a fundamental fraud: that of pretending to be a bean-to-bar chocolate company.
Making chocolate from the bean costs substantially more—in time, labor, raw materials, space requirements, and equipment—than remelting and molding bulk chocolate from an industrial producer. Selling remelted industrial couverture as bean-to-bar chocolate is unfair to any consumer who buys it. However, it is a particular affront to honest competitors, who have higher costs, yet are penalized by having to compete on price with fraudulent products; and it grieves sophisticated retailers and consumers who want to see the hard work and integrity of legitimate bean-to-bar makers appropriately rewarded in the market.
Before laying out evidence supporting the belief that the Mast Brothers sold remelted chocolate as their own in their early years, a minor limitation must be acknowledged. It cannot be proven that the Masts never made any chocolate from the bean during that time. However, the Mast Brothers repeatedly, consistently presented themselves to the media solely as bean-to-bar chocolate makers. Had any of their output been remelted chocolate—whether ten percent, fifty percent, or one hundred percent—it would justify the belief that the Mast Brothers had defrauded the press and public. Readers can evaluate the information and come to their own conclusions about whether, or to what extent, the Masts faked it.
The evidence falls into four occasionally overlapping categories. First up, taste and texture.
(After repeated requests to Rick Mast for an interview at a time and place of his choosing, his public relations representative declined on his behalf.)

The earliest suspicions of remelting arose as experienced chocolate consumers encountered Mast Brothers chocolate. In early March 2008—a few months after Mast Brothers began selling bars at weekend markets in Brooklyn—I obtained three of their bars through a chef friend. Tasting each bar raised red flags. Small bean-to-bar makers generally source cacao with distinctive flavor characteristics (and often, unfortunately, flaws) that persist, through minimalist processing, in the finished chocolate. But each Mast Brothers bar had a flat, roasty, anodyne flavor typical of industrial manufacturers using bulk cacao from western Africa. More suspiciously, the texture was as smooth and slick as store-bought couverture from a multinational behemoth, which is unimaginable from a small maker using tabletop stone grinders. If the Mast Brothers did make that chocolate, I had never seen such a perfect mimic of blandly competent middle-market industrial chocolate before, nor have I in the nearly eight years since.
I purchased several Mast Brothers bars from retailers in New York (Spuyten Duyvil and Murray's Cheese) over the following year. Packaging and labels had changed over that time; but the style of the chocolate remained consistent. Though most Mast Brothers products at the time were flavored bars of unspecified cacao origin, even the occasional single-origin bars were controlled, mannered, imprinted with the house style of a large manufacturer.
Others who tasted early Mast Brothers chocolate arrived at similar conclusions about the manufacturing characteristics. George Gensler—a founding member of the Manhattan Chocolate Society and a permanent member of the Grand Jury for the International Chocolate Awards—first tried several single-origin bars of Mast Brothers chocolate in April of 2008, and was "very impressed that a new maker was doing such a good job," noting that the bars "were very professionally made, had a good texture and a true-to-bean flavor." Brady Brelinski, a fellow member of the Manhattan Chocolate Society, tried the same bars, observing a "smooth texture and even melt for each." When asked whether he thought the Mast Brothers were making their own chocolate or remelting at that time, Brelinski says, "Even then I had my suspicions."
Aubrey Lindley first encountered Mast Brothers bars at Miette Pâtisserie, while in San Francisco for the Winter Fancy Food Show in January 2009. Lindley is co-owner of Cacao, a Portland, Oregon, shop specializing in craft chocolate since 2006. His opinion was decisive: "I was confident that they did not make the chocolate at that time. It had an overly refined, smooth texture that is a trademark of industrial chocolate. No small equipment was achieving a texture like that. It also tasted like industrial chocolate: balanced, flavorless, dark roast, and vanilla."
During the summer of 2009, after the Masts had been selling to the public for over a year and a half, something peculiar happened. The Mast Brothers' product line shifted dramatically. Soon, nearly every bar was being made with Madagascar or Dominican cacao. I tried a few of the Madagascar bars in early fall of that year and had no trouble believing they made the chocolate themselves, albeit poorly. The distinctive traits of the cacao—bright, fruity, acidic—shone through, unfiltered and uncontrolled by conching. The texture was coarse and muddy.
Others noticed the same sharp quality decline. Mark Christian, of the preeminent fine chocolate review website, the C-spot, says that "results from their old home kitchen were more convincing," attributing the plunge in quality to "an inauspicious crop from Madagascar" and the fact that "seemingly any employee on the staff for a month or two qualifies to try their hand at the helm." C-spot ratings for Mast Brothers chocolate dropped precipitously after 2009, the only outliers being a short-lived set of limited edition bars with premium Venezuelan cacao.
As Brady Brelinski tasted Mast Brothers bars over the years, took notes, and logged them in his database of reviews (now approaching 1,600 on the Flavors of Cacao web site), he observed that, "the Mast Brothers unfortunately trended downward in ratings after 2008. I can't explain it, because most makers start low and improve over time; but the Masts went in the wrong direction." Gensler, who had been impressed by the early 2008 bars, noted that "at a later tasting, the quality, texture, taste, etc., had changed markedly, and that was the first time I thought the previous chocolate might have been remelted. The texture was off and it tasted awful. We were all pretty shocked at the change."
Lindley sampled Mast Brothers bars again in 2010 and found that "the change was remarkable and obvious. Dry, badly roasted, off flavors, sometimes poorly tempered, almost always terribly textured, crumbly, coarse, clumsily-made chocolate, probably using CocoaTowns. Most of the chocolate was simply inedible, by my standards."
The conspicuous transition in product characteristics and quality in mid-2009 meant nothing to the media, infrequent chocolate buyers, or retailers for whom Mast Brothers bars were no more than cutely packaged SKUs. But to careful observers, it appeared as though the Masts were finally delivering on their bean-to-bar claims.
[Go to Part 2, Part 3, or Part 4. Supplemental matter will appear on the DallasFoodOrg Tumblr.]