Four years ago, while standing on a mountaintop in Switzerland, a pair of Canadian accountants, Katrina Merrem and Noah Houghton, decided to leave the ledgers behind and enter the world of gourmet chocolate. Two years later, they founded Noka Chocolate in Plano, Texas. On to the chocolate…
Instead of the usual array of elaborate molded and filled chocolates seen in most chocolatiers' shops, Noka opened with a spartan lineup of small, rectangular molded chocolates (the "Vintages Collection") and simple, unflavored ganache truffles (the "Grand Cru Collection"). The idea driving this minimalism is summed up in the following line from the company's FAQ: "Our passion is tasting real chocolate, in its rarest and purest form, unadulterated by vanilla and any other flavorings."
Noka's molded chocolates and truffles are made with single-origin chocolate—chocolate that is made from beans grown and harvested in a single country of origin, rather than a blend of beans from different countries. The company takes great pride in the quality and purity of the chocolate. As they state in their FAQ, "Regular dark chocolate contains a blend of cacao from a variety of different origins. Most regular chocolate also contains vanilla, added to round out quality imperfections and create a consistent flavor. We focus solely on the highest quality single-origin dark chocolate and as such there is no vanilla in any of our chocolate."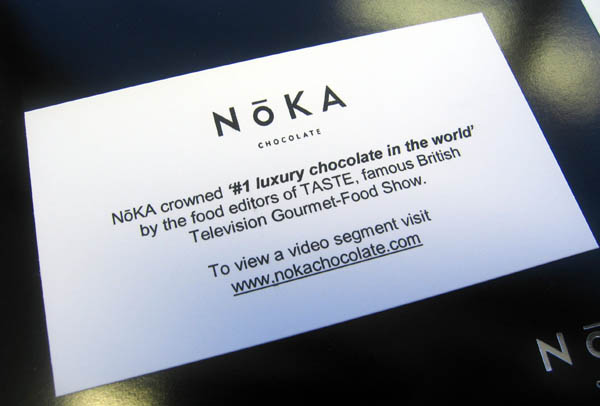 Since its opening two years ago, Noka has gained greater visibility, winning distribution through Neiman Marcus and Dean & DeLuca, landing sponsorships for the Golden Globe and Emmy Awards, and being named the #1 luxury chocolate in the world by Taste (a Sky TV food show hosted by two-time FHM sexiest woman candidate Beverley Turner). [Clarification: Dean & DeLuca recently stopped carrying Noka's products.]
The one constant in all coverage of Noka is mention of their high prices. A Forbes featurette from Susan Yara earlier this year even identified Noka's chocolates as the second most expensive in the world. A strong argument can be made, however, that Noka's are the most expensive, since the chocolate that beat them—a dark chocolate truffle with a core of actual black truffle—is a special order item that's far more expensive than Fritz Knipschildt's normal retail line of chocolates. (Coming in third place were DeLafée's ganache-filled milk chocolate cigarillos, which are encrusted with 24 karat edible gold foil.)
I'll admit that the first time I visited Noka's web site two years ago, I experienced sticker shock, even though I was no stranger to pricey gourmet chocolates. I figured I'd let some time pass, see if they survived, and maybe take a closer look at the company and its product later.
The time has come for that closer look.
In the coming days, we'll search for the answer to one simple question: Are Noka's chocolates worth the money?